2023 Cherry Update: Unfortunately Due to the February 4th Freeze (-14 Degrees) we will not have cherries and peaches available in 2023.
Cherry season starts in late June and we have a good crop of cherries this year to pick. Cherries are our most temperamental crop we grow, requiring special pruning to maintain fruitful wood in the trees, proper pollination during bloom, bird netting to protect the sweet fruit from hungry birds, rain covers to prevent the fragile cherry skin from splitting. The crop is not huge due to the spring frosts, freezes, and poor pollination weather but that means the fruit is larger than ever and very sweet and tasty!

 
Admission into the orchard will include a box that you can fill with fruit to a "reasonable" level, see the photo above. We will not be weighing fruit at the exit in order to minimize the amount of contact between customers, cashiers, and scales. We will be monitoring pickers for overfilled boxes.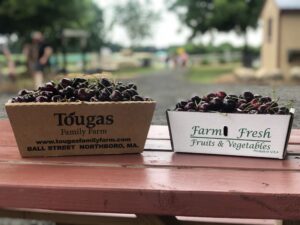 The minimum purchase for adults will be two quarts of cherries and children one quart.  We are looking for our best customers to come pick this year!!! .

$26 per person adult admission includes a 2 quart, 3.5 pound box for you to fill with cherries (white box in photos)
Upgrade to a 4 quart, 6.5 pound box for an additional $18 ($44 total, brown box in photos)
$15 child's admission (max 2 children per adult) includes a 1 quart box to fill with cherries
Pricing subject to change
Please DO NOT over fill the boxes
Eating will not be allowed in the Upick fields, this is particularly important for cherries! What do cherries have that strawberries and blueberries don't? Pits. We CAN NOT have customers in the orchard spitting pits onto the ground, into their hands, into picking containers.
Cherry Picking Season runs approximately from late June to as late as early  July.
We grow over 20 varieties Sweet Dark Cherries, Blush Cherries, and Tart Pie Cherries on 6 acres, the largest pick-your-own cherry orchard in New England.  Cherries are the most challenging crop we grow – winter cold, spring frosts, poor pollination weather, rain cracking, bird damage, and other challenges must be addressed in order for us to produce a cherry crop and we have learned many lessons the hard way! All our cherry orchards are protected with bird netting and rain covers which allow us to properly ripen our fruit. Come out and enjoy a truly unique treat in our cherry orchards!
CHERRY PICKING TIPS
Always check the Picking conditions page or call the picking information line (508) 393-6406 for up to date picking information before coming out to the farm
1. Cherries ripen from the top of the tree down, the ripest cherries are at the top.
2. The first cherries to ripen are the largest cherries.
3. Look for the darkest burgundy color for ripest fruit (see color chart) for dark sweets, blush cherries should be 50% or more red with yellow/orange background. Take off the sunglasses to see the cherries real color.
4. Cherries get crispier with refrigeration.
5. For longest shelf life pick cherries with the stem on and refrigerate them.
6. Pick cherries like turning ON a light switch, lift the stem up until it gently releases from the branch. Do not pull the stem or clusters of fruit off the tree, it will damage the buds for next year's crop.
7. We cover our cherries with rain tarps to prevent rain cracking. This means the cherries have a bit of dust and pollen on them because the rain does not rinse them off.
8. Sweet cherries are best for fresh eating, while tart cherries are great for processing – pies, juice, jams
9. Cherries are extremely healthy for you, but too much of a good thing has its side effects! Don't OVER EAT in the cherries, it can cause upset stomach.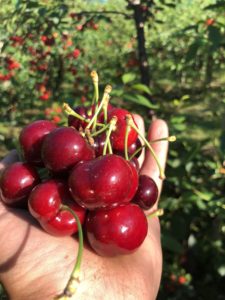 Please observe all rules for the benefit of all of our customers and our farm.
Always check in at the PYO shed first to get picking locations and information. Please pick only in designated areas, which are carefully selected based on the ripening schedule of our fruit.
We provide picking containers for a fee or you may bring your own, just have it weighed at our check-in before entering the field.
Wear appropriate clothing for the weather, don't forget hats, sunscreen, and a bottle of water!
We recommend wearing close-toed shoes good for walking on uneven ground, as bees, hornets and yellow jackets may be present on fallen fruit.
If you drop any fruit on the ground, we ask that you please make every effort to pick it up and purchase it so that no fruit is wasted. Many labor-intensive hours go into the care of our crops.
Children must be accompanied by an adult, and must stay within arms reach at all times.
Please dispose of trash in proper receptacles
Please be considerate of all of our customers and observe our non-smoking policy.
Pets are not allowed on the farm due to health regulations
See our Recipe Book for more handling, processing, and cherry recipes!