HOLIDAY HOURS:
Monday, November 20th CLOSED
Tuesday, November 21st – 10AM to 5PM
Wednesday, November 22nd – 10AM to 4PM
Saturday, November 25th – 10AM to 3PM for Small Business Saturday
Friday, December 1st through Sunday December 3rd – 10AM to 3PM**
Friday, December 8th through Sunday December 10th – 10AM to 3PM**
Friday, December 15th through Sunday December 17th – 10AM to 3PM**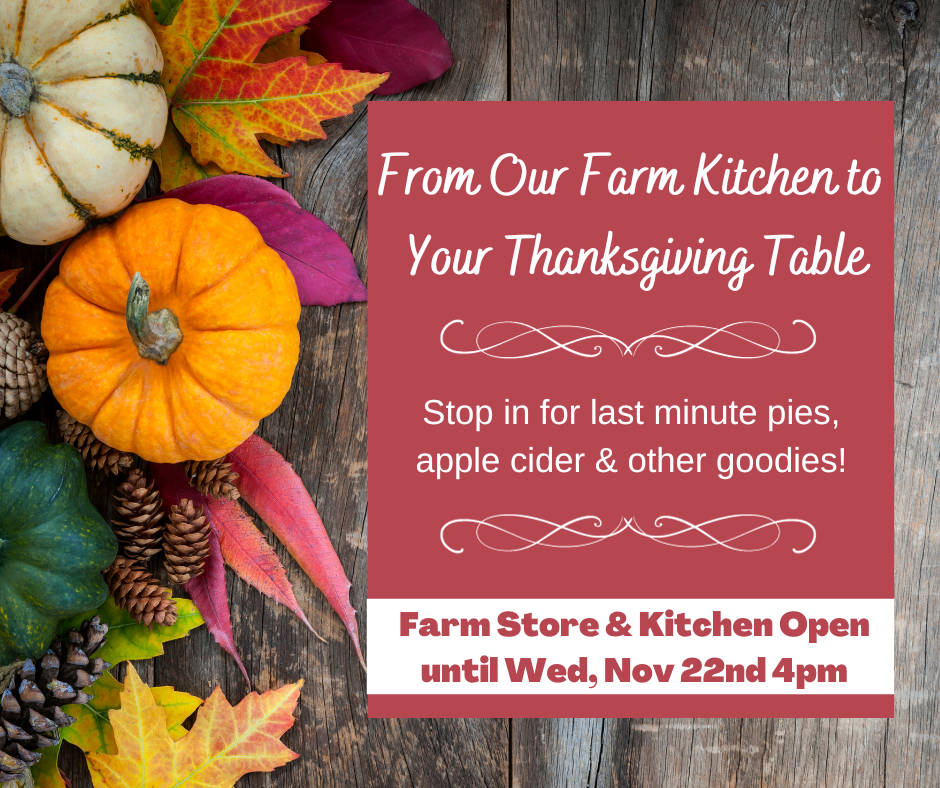 Apples: Buy 1 large 1/2 Bushel Bag get the 2nd Half Off in The Farm Store and UPick* – Share with your Friends! *Second bag special does not include additional admissions to the orchard.
The Farm Store and Kitchen for walk in APPLE DUMPLINGS, ice cream, pies, apple crisp, cider donuts, Tougas merch, gourmet coffee, fruit preserves, hot sauces, local honey, maple products, and specialty gift items.
FARM STORE APPLE VARIETIES: EverCrisp, Rosalee, LudaCrisp, Macoun, Cortland, Honeycrisp, Gala, Blondee, McIntosh, Topaz, Ambrosia, Empire, Fuji, Mutsu, Golden Russet.
**ALL HOURS ARE WEATHER AND FRUIT DEPENDENT. ALWAYS CHECK BEFORE YOU HEAD OUT! FRUIT VARIETIES MAY SELL OUT WITHOUT NOTICE.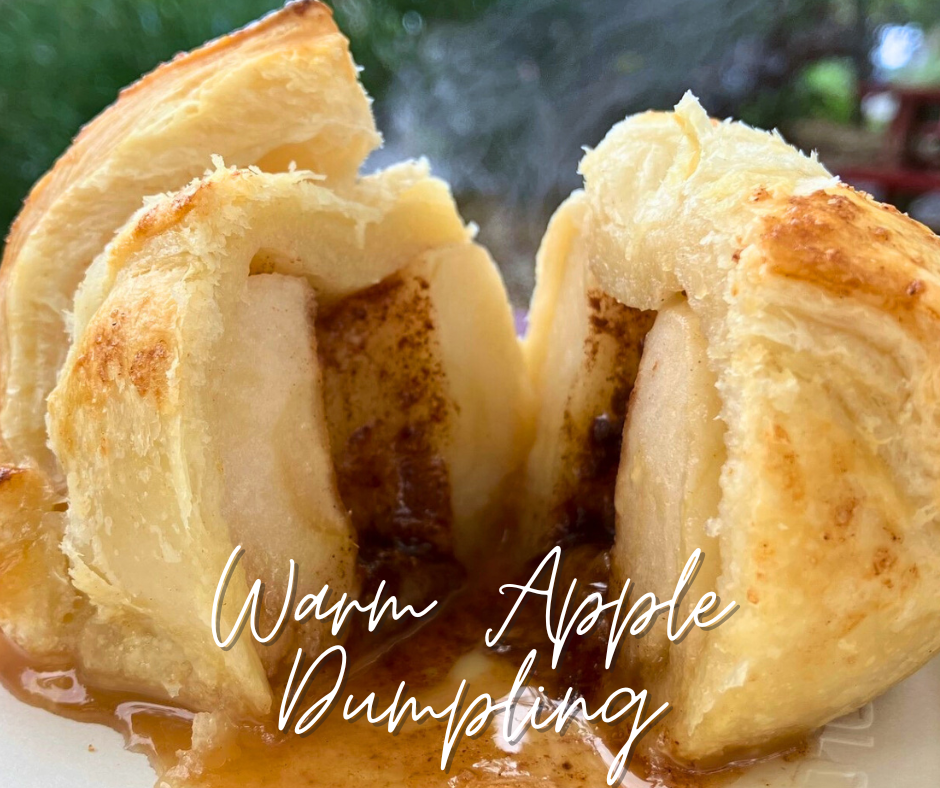 Apple season is here! And that means celebrating in the Farm Kitchen as well!
*Weather and fruit supply permitting. If it gets excessively hot this week, we may close the fields early. Please check our website or Facebook prior to your visit.
Stay tuned and sign up for email notifications.
Be sure to sign up for email Picking Alerts so you don't miss them!
Tougas Family Farm is a 2nd generation fruit farm offering, in order of ripening, Pick-Your-Own Strawberries, Cherries, Blueberries, Blackberries, Peaches, Nectarines, Apples, and Pumpkins. We work hard to offer premium quality fruit and fun family friendly activities – Fruit picking is the best value in family entertainment!
Our Barnyard, Playground, and Farm Kitchen are family friendly activities all will enjoy. After picking, enjoy farm fresh homemade baked goods, apple cider donuts, and ice cream at the Tougas Farm Kitchen, and then visit the barnyard to see the goats climb their mountain of stone. Fun for the whole day, a perfect Massachusetts vacation & New England experience. Strawberries are ready in June, but do you know when our Honeycrisp™ apples are ripe for picking? Check out our fruit seasons page and join our mailing list to see when our fruit crops are ready for you to come out and pick.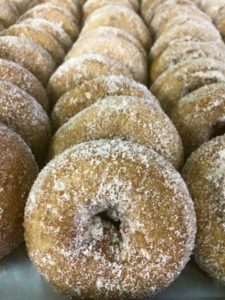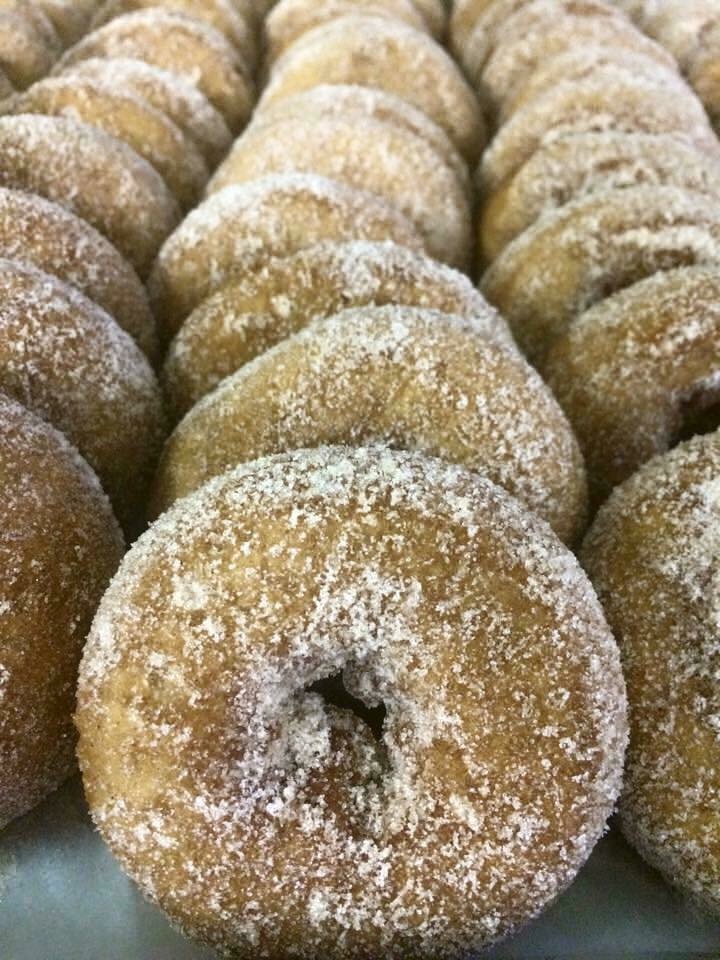 Please observe all rules for the benefit of all of our customers and our farm Always check in at the PYO shed first to get picking locations and information. Please pick only in designated areas, which are carefully selected based on the ripening schedule of our fruit. We provide picking containers. Wear appropriate clothing for the weather, don't forget hats, sunscreen, and a bottle of water! We recommend wearing closed-toe shoes good for walking on uneven ground and to protect your feet from sticks and other hazards. If you drop any fruit on the ground, we ask that you please make every effort to pick it up and purchase it so that no fruit is wasted. Many labor-intensive hours go into the care of our crops. Children must be accompanied by an adult, and must stay within arms reach at all times. Please dispose of trash in proper receptacles. Please be considerate of all of our customers and observe our no smoking policy. Pets are NOT allowed on the farm due to health regulations. Picnic tables are reserved for customers who purchase food from Farm Kitchen. Please no outside food. See our Recipe Book for more handling, processing, and fruit recipes!