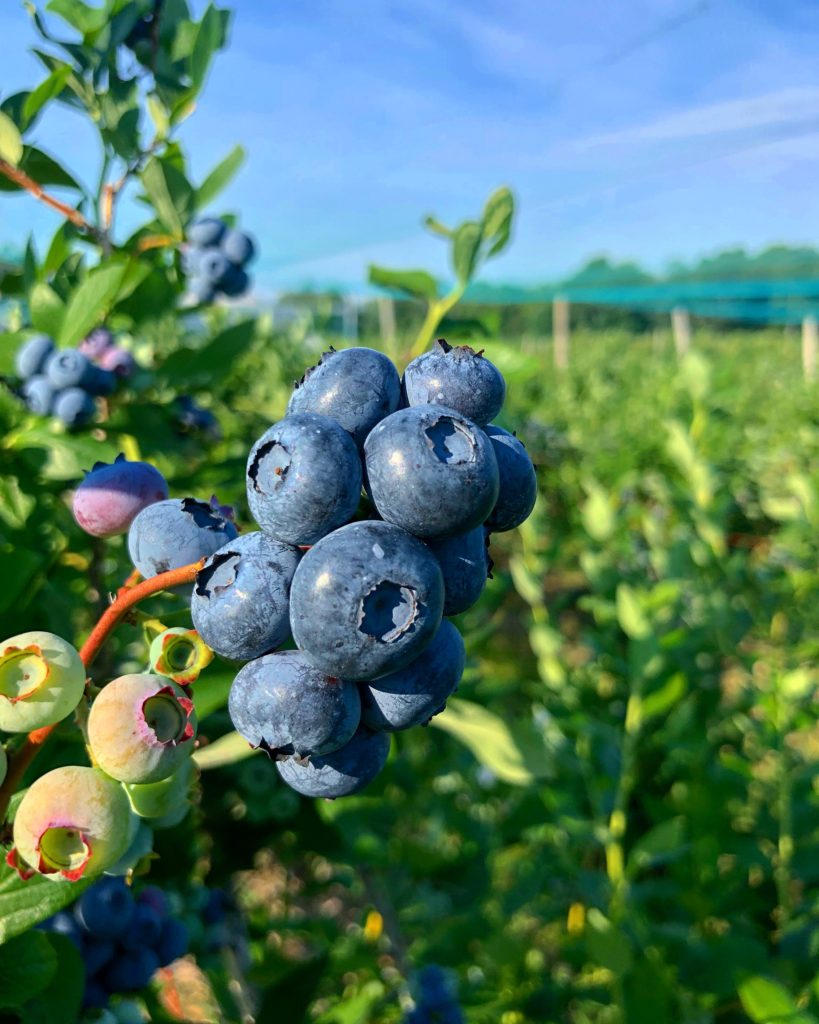 Blueberry Picking Season runs approximately from early July to mid August.  We grow over 15 varieties of blueberries on 8.5 acres, spreading our blueberry season over a month and a half. All our blueberry fields are protected with bird netting which allow us to properly ripen our fruit. Come out and enjoy summer on our farm!
The blueberry is one of only two uniquely American fruit, the cranberry being the other. Wild blueberries grow either in high bushes or close to the ground (low bush). Our berries are high bush berries with generally larger fruit due to careful pruning and watering.
Blueberries are at their sweetest when they are allowed to remain on the bush for about a week after turning blue. Therefore, be sure that the berries you pick are blue, and not purple! Once brought home, berries will keep about a week in a covered container. Wash before using, not before storing. Frozen berries are best if used within a year.
Blueberries are a good source of vitamins A and C, and have about 90 calories per cup.
BLUEBERRY PICKING TIPS
Always check the Picking conditions page or call the picking information line (508) 393-6406 for up to date picking information before coming out to the farm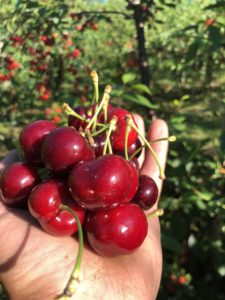 Always check in at the PYO shed first to get picking locations and information. Please pick only in designated areas, which are carefully selected based on the ripening schedule of our fruit.
We provide picking containers for a fee or you may bring your own, just have it weighed at our check-in before entering the field.
Wear appropriate clothing for the weather, don't forget hats, sunscreen, and a bottle of water!
We recommend wearing close-toed shoes good for walking on uneven ground, as bees, hornets and yellow jackets may be present on fallen fruit.
If you drop any fruit on the ground, we ask that you please make every effort to pick it up and purchase it so that no fruit is wasted. Many labor-intensive hours go into the care of our crops.
Children must be accompanied by an adult, and must stay within arms reach at all times.
Please dispose of trash in proper receptacles
Please be considerate of all of our customers and observe our non-smoking policy.
Pets are not allowed on the farm due to health regulations
See our Recipe Book for more handling, processing, and cherry recipes!