BOOK YOUR COMPANY OUTING NOW!
Take your company and co workers outside for a classic New England Fall day. Enjoy fresh air, Fall foliage, apple and pumpkin picking (additional charge for pumpkins), cider donuts, caramel apples, apple cide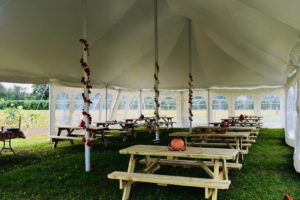 r, and other fall treats!
After booking a group tour coordinator will contact you for 50% deposit to hold the date. Three weeks cancellation policy required for a refund of deposit
Package Includes:
*Private tent/area
*Private wagon ride and tour of the orchard
*Bag of Animal feed for visiting the barnyard and feeding the goats
*Apple info session about the day's varieties and quick picking lesson from one of our harvest guides
*Apple picking a 5lb (1/2 peck bag) of apples (upgrade to larger size bag available)
*Cider Donut per person
*Caramel Apple per person (plain or with sprinkles, need count ahead of time)
*Apple Cider
Additional add ons, such as pumpkin picking, snacks, and food options are available.
If you require additional information or assistance in booking your outing, or a time is not listed that you wish to come, contact us at tougastours@gmail.com or 508-393-1834. Please note that the phone may not be answered during peak busy times, and email correspondence is preferred.